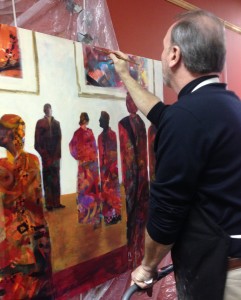 EDUCATION AFA (fine art) Ferrum College
BA (graphics) Lynchburg College
RECENT JURIED and GROUP EXHIBITIONS
2017 – 9th Annual Riverviews Artspace Juried Exhibition, Lynchburg, VA
2017 – 53rd Annual Bath County Art Show, Hot Springs, VA
2017 – Baltimore Watercolor Society, Mid-Atlantic Regional Exhibition , Germantown, MD
2017 – 40th Annual International Watermedia Exhibition, Houston, TX
2017- 26th Annual Central Virginia Watercolor Guild Juried Exhibition, Charlottesville, VA
2017 -Biennial Juried Exhibition – Olin Hall Galleries, Roanoke, College , Salem, VA
2017 – Riverviews Artspace 4th Biennial Community Exhibition, Lynchburg, VA
2016 – 36th San Diego Watercolor International Exhibition,  San Diego, CA
2016 – Academy Center of the Arts, National Photography Juried Exhibition, Lynchburg, VA
2016 – Academy Center of the Arts, National Juried Exhibition, Lynchburg, VA
2016 – Riverviews Artspace 8th Annual Juried Exhibition, Lynchburg, VA
2016 – 25th Annual Central Virginia Watercolor Guild Juried Exhibition, Charlottesville, VA
2016 – 37th Annual Virginia Watercolor Society Juried Exhibition, Gloucester, VA
2015 – Bower Center National Juried Exhibition, Bower Art Center, Bedford, VA
2015 – Mid-Atlantic Regional Juried  Exhibition- Baltimore Watercolor Society, BlackRock  Center for the Arts, Germantown, Maryland
 2015- 38th Annual Southern Watercolor Society Juried Exhibition – Clarksville, TN
2015 - 36th Annual  Virginia Watercolor Society Juried Exhibition, Harrisonburg,VA
2014-Central Virginia Watercolor Guild 23rd Annual Juried Exhibition, Charlottesville, VA
2014-Virginia Watercolor Society 35th Annual Juried Exhibition, Lynchburg, VA
2014 – Mid-Atlantic Regional Watercolor Exhibition – Baltimore Watercolor Society, University of Maryland, Adelphi, MD
2012-2013-Virginia Watercolor Society 33rd & 34th Annual Juried Exhibition, Hampton, VA
2012-2013- Central Virginia Watercolor Guild  Annual Juried Exhibition, Charlottesville, VA
2011-4th Annual National Juried Exhibition- Prince Street Gallery, New York, NY
2011 63rd Virginia Highlands Festival – Juried Fine Arts Exhibition – Abingdon, VA
2011-Virginia Watercolor Society 32nd Annual Juried Exhibition,Kilmarnock, VA
2011 -National Juried Multimedia Exhibition- Park Gables Gallery, Harrisonburg, VA
2009-11-12-13 Academy of Fine Arts National Juried Photography Exhibition, Lynchburg, VA
2009-10-11 Nelson Fine Arts Gallery-Annual Juried Show, Lexington, VA
2009 -10 -13 Riverviews Artspace Juried Art Exhibition, Lynchburg VA
2009-13 Lexington VA – 2nd & 3rd Annual Plein Air Paint Out – Invitational
2009 / 2013 New River Art 2009-Juried Regional Exhibition, Pulaski, VA
2009 Academy of Fine Arts Annual National Juried Art Exhibition, Lynchburg, VA
2009 The 61st Virginia Highlands Festival Juried Fine Art Show, Abington, VA
2009 Central Virginia Watercolor Guild 18th Annual Juried Exhibition, Charlottesville, VA
2009 Virginia Watercolor Society 30th Annual Juried Exhibition, Lorton, VA
2009 Biennial Juried Exhibition Olin Hall Galleries, Roanoke College, Salem VA
2008 88th Annual National Watercolor Society Juried Exhibition, Riverside, CA
2008 29th Annual Roanoke City Art Show Juried Exhibition, Roanoke, VA
2005 The 5th Annual American Landscapes National Juried Exhibition, Annapolis, MD
RECENT AWARDS
2017 – Judges Choice, Lynn Shapiro Award, Academy Center of the Arts National Juried Photography Exhibition, Lynchburg, VA (Carolyn Russo, juror/judge of awards) "Mornings at 7″
2017 – Peery Family Dentistry Award – 45th Annual Lynchburg Art Festival, Lynchburg VA (Jeffry Cudlin, judge) "Covesville Shadows"
2017 – Honorable Mention, 53rd Annual Bath County Art Show, Hot Springs, VA (Bradley Stevens, judge) Blue Mountain II
2016 – CVWG Memorial Award, 25th Annual Central Virginia Watercolor Guild, Juried Exhibition, Charlottesville, VA (James Warwick Jones, judge) "First the Egg"
2016 – The William Thomasson Family Award, 44th Annual Lynchburg Art Festival, Lynchburg, VA (Amy Shawley, judge) "Valley Trees"
2015 - N. B. Handy Award, 43rd Annual Lynchburg Art Festival, Lynchburg, VA (Elizabeth Geiger, Judge) "Southside Virginia"
2014 – Shelly Bechtel Shepherd Memorial Award- 50th Annual Bath County Art Show-Warm Springs, VA (Al Gury, Chair of the Painting Department, Pennsylvania Academy of the Fine Arts, Philadelphia, PA
2014 Award of Merit - 82nd  Annual Georgia Morgan Memorial ShowLynchburg Art Club, Lynchburg, VA (Ron Boehmer, Judge) "Southside Virginia"
2013 Abe M Schewel Memorial Award – 41st  Annual Lynchburg Art Festival-Lynchburg, VA (Nancy Bass – judge)"View from Goshen, VA"
2013 Award of Excellence, Central Virginia Watercolor Guild 23rd Annual Juried Exhibition, Charlottesville, VA (Jan Ledbetter, judge) San Miguel Shadows
2013 Honorable Mention, Judge's Choice, 49th  Annual Bath County Art Show-Warm Springs, VA (Michael Haga, Judge) One Tree Valley
2011 Honorable Mention – 63rd Annual Virginia Highlands Festival – Juried Fine Arts Exhibition – Abingdon, VA
2011 Members Choice Award -12th Annual Juried Show-Nelson Fine Arts Gallery – Lexington, VA
2010 Best Mixed Media Award – Sidewalk Art Show, Roanoke, VA
2010 Award of Excellence – 62nd Annual Virginia Highlands Festival Juried Art Show -Abingdon, VA
2010 Third Place Oils – 46th Annual Bath County Art Show
2010 Royal County Arts Award – Lynchburg Art Festival
2009 Shirley Duncan Hobbs Memorial Best in Show Award – Lynchburg Art Festival
2009 Award of Distinction – Miller Off Main Galleries – New River Art Show
2009 Bill Byers Memorial Award – Nelson Fine Arts Gallery 10th Annual Juried Show
2009 Award of Merit – 61st Annual Virginia Highlands Festival Juried Fine Art Show – Abingdon, VA
2008 Lynchburg Art Club President's Award – 36th Annual Lynchburg Art Festival
2007 Award of Excellence – 59th Annual Virginia Highlands Festival Juried Art Show- Abingdon, VA
2006 Award of Excellence – 58th Annual Virginia Highlands Festival Juried Art Show – Abingdon, VA
BIO
David has studied watercolor with Karen Bowden and Don Andrews, and watermedia with Vera Dickerson, Nancy Stark, Robert Burridge and Carol Barnes.
Since 1999 he has been studying oil & gouache with Rosalie Day White in Lynchburg. For the past 17 years he has studied at the Summer Artists Program, Nimrod Hall, Bath County.
He paints in oil as well as with acrylic and gouache. He is a Signature member of the Virginia Watercolor Society & the Baltimore Watercolor Society. His work has been selected for Virginia juried exhibitions in Lynchburg, Lexington, Danville, Roanoke, Harrisonburg, Charlottesville, Blacksburg, Abingdon, Pulaski, Fredericksburg, Staunton, Hampton and Richmond as well as in New York, California, Pennsylvania, Texas, Tennessee and Maryland.
He has received awards for his work in regional as well as national exhibitions. His painting, "First the Egg" received the CVWG Memorial Award at the 25th Central Virginia Watercolor Guild (2016) juried exhibition.
His painting, "Walk from the Mirador" (2009) received the Best in Show Award at the Lynchburg Art Festival.
He exhibits work at Pheasant's Eye Gallery, Lynchburg; The Market Gallery, Roanoke, the Lynchburg Art Festival; Riverviews Artist's Co-Op Gallery at Riverviews Artspace.
Additionally he has served as a juror, judge of awards for several regional as well as national exhibitions. David's studio is located at Art on 12th studios – #7, at The Art Box building,422 12th Street in Historic Downtown Lynchburg, VA